How to Make a Great Impression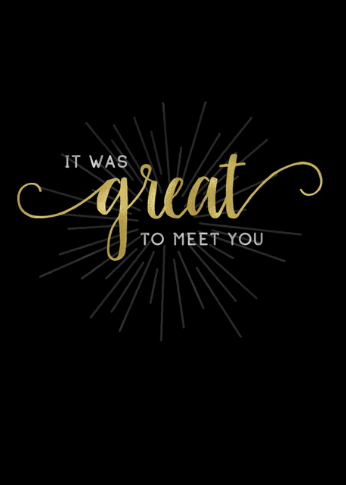 While many business owners are wondering how to meet someone and immediately turn it to business, they are missing the power in building the relationship first, and allowing business to naturally occur. It's important to und the power in a nice to meet you card.
When was the last time you met someone and received a REAL greeting card in the mail – yes SNAIL MAIL?
It's probably happened, but not that often, right? You probably had to stop and think.
The Power in a Nice to Meet You Card
Joe Girard still holds the record as the "World's Greatest Salesman." For 12 years straight, he was the top car and truck salesman in the US.
And, these were all one to one sales – not fleet sales.
How did he do it? When asked this question, his reply is –
"I sell the BEST product. I sell JOE GIRARD!"
Pretty powerful. And, let's break that down.
He was smart enough to know that people will buy, and refer others to, those who they know, like and trust. What's the best way to develop that type of relationship with others?
Keep in touch. Show you care and are interested. Make people feel special and important.
He did these through simple greeting cards. Yes, real mailed greeting cards.
Not promotional cards that tell how great he is and how awesome his cards are.
Instead, they were cards that said how great his recipient is – how great YOU are!
How much he appreciates them.
If you really want to make a big impact, grab some of their photos off of Facebook, and add a box of Brownies!
You will get a response!
Now, doing that is so simple with SendOutCards.
Want to learn more? Text or call – 909-289-7908 or complete the form below –
I'll be in touch!
Please complete the form with your questions.