Are You Ready to Master Home Business Success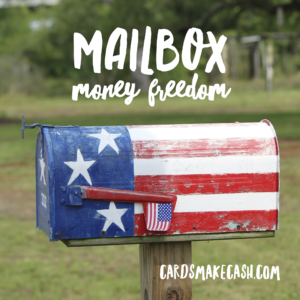 Finally, a simple business with a product that every business needs and anyone can use to create more success in their own lives and businesses! And, a lucrative referral compensation plan is attached.
Have you been a representative of a Direct Sales businesses and felt frustrated by all of the competition you face with similar businesses and products?
Have you ever started a Direct Sales business and wondered how exactly to share it with others and generate some interest?
Have you ever started a Direct Sales business and then felt left on your own to figure out exactly what to do to actually launch it?
Are you exploring Multiple Streams of Income and wonder how this business might be a fit for you?
Welcome to the end of the frustration and fears around how to grow a business.
This short video shares more on why I chose SendOutCards –
I'm going to share the 6 most important things you need to know to make a decision about partnering together and growing a global team with the best in offline and online strategies –
Here is what you need to know about starting an affiliate based, Direct Sales Business with me and SendOutCards
Simple Business – No products or inventory to stock; no deliveries; no carting your stuff from home to home, doing home parties and begging for sales. This is a business that you can work right from your phone! It's all done online! This is the most "non network marketing" Network Marketing business you will ever see!
A Product/Service Everyone Can Use – Any business that has customers is perfect for our service. We help businesses create more referrals, more customer/client retention, great follow up with business prospects; as well as family and friends. We are a business about building strong relationships that improve the quality of lives and businesses. Think of Real Estate Agents, Insurance, Car Sales, Financial Services, Mortgage Title Services, Photographers, Travel Agents, Network Marketers, Direct Sales, Party Plan – you name it!
No Competition – Look around – there is no one else offering you the ability to offer a service like ours; as dynamic as ours with personalized photos on cards; and pay you for using and sharing it! Unlike nutritional, juice, vitamin, weight loss, skin care, makeup, travel and other Direct Sales companies – there is only ONE Greeting Card and Gift company – SendOutCards!
Unlimited Source of Leads, both Online and Offline – I'll teach you solid, proven skills and techniques to easily share what we do with those who you know and meet, as well as how to expand your friends, contacts and possibilities online! With our product, you don't have to be face to face to share what we do; sign people up or earn an income! I'll share how to contact Professionals (Real Estate, Mortgage Lenders, Car Sales and more) and get in front of groups to share our product and how to be successful.
Training and Support From a Million Dollar Earner in Direct Sales – I've won multiple awards in SendOutCards, as well as the Network Marketing profession, for sponsoring, team building and leadership. My techniques work, and I will teach you how to launch and succeed in your business. Here's a hint – when you know who to contact; and how to contact them,  what to say so you feel confident and comfortable; and how to walk them through every step of the way; you will succeed. I will teach you this!
Exciting Career Income Potential – how much would you like to earn? I will help you map out the exact plan you will need on a daily, weekly and monthly basis to create any income you want! Learn more about our Compensation Plan.
So, what do you need to do?
First, get the APP on your phone or device, if you haven't – soc.SendOutFunCards.com
Let me teach you how to simply use the APP to send cards and share it with others using our simple text and/or Messenger script and strategy,
Learn and use my 5 Step System for Success with our business! (Included with your Marketing Bundle and Distributor Sign Up!)
Go through and master my Success Language Training!
Work with me to develop a business and action plan that works for you!
As you evaluate your options with a home business, these are some things you might think about.
Are you looking for:
A Business With No Inventory?

A Business With No Products to Stock or Deliver?

No Home Parties or Required Meetings?

Low Start Up and low Monthly Commitment?

A Business With No High Monthly Sales Quotas to Get Paid?

More fun out of life? More fun in a business and your work?

A Business you can run online, from home or anywhere in the world with your SmartPhone, or Laptop and Internet Connection
Are you tired of:
Juice and Vitamin Programs – there are thousands of  "me, too" products out there

$150-250 monthly auto-ship just for products to be involved in the business

Way too much inventory coming in with no ability to retail it.

"Downline Builder Systems" promising the moon and delivering nothing but debt.

Too much hype created by fear of loss.

Trying to figure out how to approach people about your business and not alienate your friends?
Let me paint a vision of what we have, and what made this business irresistible to me-
This is a business that has NO COMPETITION!
This is a product that has true value in the marketplace – Real Estate Agents, Car Sales, Dentists and Doctors, others in Direct Sales and Network Marketing – anyone can use our product to help their business succeed.
This is a business where your monthly autoship ($39) goes toward your marketing costs, for sending cards and gifts to prospects, customers and your team.
This is a business where the sun never sets on your income, because someone, somewhere in the world is sending a card to someone they care about.
This is a business that makes a difference in the lives of others.
Please, take a few moments to explore the possibilities of our business; our commitment to excellence; and our commitment to assisting you every step of the way….
How about sending a card, personalized to your recipient by you, stamped and mailed for a little over a dollar?
How about being able to do this right from your SmartPhone?
Take a selfie; grab a quick photo of some friends; or a client and send off a card in two minutes, personalized to them.
Who do you know who has a business that is dependent on customers for success?
Nearly EVERYONE and EVERY BUSINESS, right?
Do you know anyone in Real Estate? Insurance Sales? Car Sales? Direct Sales or Network Marketing?
What about Churches, or any one who works with people?
Imagine the smiles, excitement and emotion you can create by reaching out and randomly making a difference in someone's day through an unexpected card and sentiment?
Create your own custom card with your photos or choose from thousands in the card catalog. Add a gift!
Click a few buttons and it will be ordered, printed, stuff, stamped and mailed to your recipient the next day.
Imagine teaching others to do this? What kind of revolution might you start?
Get the App, from your device or smart phone!
Join The Team and Let's Get You Launched! Click the link and then scroll down to Seize the Opportunity, and click Join Now!
Request a business information pack to be mailed below!
"The secret of success is making your vocation your vacation." – Mark Twain
Every day, thousands of men and women across the globe are looking to take charge of their lives; their financial future and security; and create a higher quality of life. It's not just about money – it's about time to enjoy the money you do make.
My Commitment to You as Your Sponsor >>>>>>