5 Star Follow Up For Success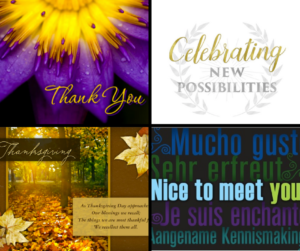 My Relationship Marketing Follow Up System consists of the primary things SoloPreneurs, Direct Sales, Real Estate Agents and anyone in business need to do in order to grow their business.
It answers these questions –
Do you know how to find and add people to your database of potential Clients, Customers, Team Partners and Referral Partners?
Do you ever struggle with how to thank your customers, clients and referrals?
Do you know how to create a stronger, more solid relationship more quickly through Social Media?
Do you want to know how to create consistent follow up and contact throughout the year, so you stay top of mind?
Did you know that most people leave and do business with someone else because of a perceived feeling of indifference? In fact, over 67% of people cite this as the reason they change services.
Would you like to create more customer loyalty, and raving fans?
Do you ever go to networking events, come home with a stack of cards, and then have no idea what to do to turn these contact into more than a one time casual conversation?
Would you like to create a 98% referral based business?
Would you like to become the "Go To" person in your business niche? The person your center of influence automatically thinks of and refers when the subject of your type of business comes up?
Did you know that a referral generates 80% more business results than a cold call?
Would you like to know more about a
Relationship Marketing Follow Up System
I have sponsored over 2000 people into my Direct Sales company; sold products and services in over 40 countries and have a podcast that broadcasts to people in over 150 countries.
How did I do it? With my Relationship Marketing Follow Up System, using Social Media and a highly effective way of using Direct Mail to stay top of mind!
Grab my guide –
I teach a very strategic 5 Star Follow Up system that combines the best of High Tech, and High Touch marketing. Become a Street Smart Networker!
Most trainers and courses teach on how to build relationships online and/or offline only focus on a narrow niche. That's fine.
But, with all due respect, there is a better way. (And, if you know me, you KNOW I dislike using the word "best" or anything close. But, in this case, it is TRUE.)
In 1999, I took my Direct Sales business online, and started perfecting the art of building relationships through a high tech system of attracting leads to me.
It worked GREAT, and it was extremely one sided. So, I looked for a better way.
Because of the great follow up and prospecting skills I was taught as a marketing and sales rep in the airline industry, as well as the power of Social Media, I quickly became a top producer and million dollar earner in the Direct Sales/Network Marketing profession.
The key is – I never relied on just one method.
This became the foundation of my Relationship Marketing Follow Up System.
I used the art of making contacts offline, and learned to take it online, building relationships. At the same time, I used Direct Mail to keep myself top of mind, and literally became – EVERYWHERE, as a marketer.
What were the results? Simply Amazing!
I became the top income earner in that company, and became a sought after speaker, trainer and author.
Well, that's all great, but how does that benefit YOU?
Marketing is marketing, good or bad. Today, I teach my exact, PERSONAL PROVEN methods for success. None of it is theory. All of it is proven.
It's 5 parts –
Offline or Online Networking to make contacts – High Tech AND High Touch

Social Media, to grow the relationship – MANY parts to this – High Tech

Text/Facebook Messenger Marketing – Personal, High Tech

Direct Mail, in the form of postcards, greeting cards and gifts – High Touch

The Second Face to Face – Can be Offline or Online with Messenger Chat, Facetime, Skype or Zoom
Each of the 5 parts has a specific purpose, and there is a specific method of HOW to do this, and be effective.
There are several different ways that you can access this training. It is packaged individually, based on what you need.
You can also get all of it bundled in one program, with ample time to learn and master each component, and ongoing access to me and my support/training.
As a Marketing Bundle Partner in the Direct Mail component of the program, you have access to the complete Street Smart Networker program, for no additional cost. The High Touch piece of the system is CRITICAL.
Listen to how Linda turned 4 Greeting Cards into $30K in sales with our Card System!
Contact me for all of the details and to determine which program is the best fit for you!
Please detail more about you and specifically what you are looking for. I'll text you to schedule a time to go through your comments and detail what is available. Or, I'll phone you if texting is not available.