You've Got to Differentiate or Die in Real Estate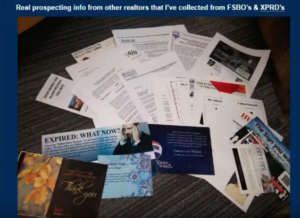 What is setting you apart from the dozens of other real estate agents everyone knows? And, a better question – is there a more effective way to create awareness in your Real Estate business?  Would you like to ditch the impersonal Real Estate Newsletter and Mailings that land right in the trash?
Do you read the newsletter and mailings from air conditioning companies? Dentists? Water companies? Probably not.
Probably like most agents, you were told from the very beginning to develop a newsletter to mail monthly, or quarterly. And, when you think about it, you are just spending time and money marketing to a mass of people when only a small number of those people are considering a move.
And, what sets your mailing apart from the dozens of other realtors who are also "pitching" them.
You must differentiate or die in the Real Estate world, and any business, really. And, you want leads chasing YOU, right? And other referring YOU!
Ditch the Impersonal Real Estate Newsletter and Mailings
This short audio is going to share some ideas that are much more effective in terms of creating awareness and capturing attention; and much more affordable with a better ROI!
After just 2 years in Real Estate, this agent is having huge success, and has created a new data base sending invitations and thank yous to his client's house warming party, along with other fun cards. Listen in for his comments about why you shouldn't be wasting your time sending Market Updates and boring Newsletters.
How many times have you received a phone call saying – Wow, thanks for the junk mail?
However, when you put the person in the star role, and make your touch points personal, you will create that strong referral based Real Estate Program you desire!
Be Different
Here are some questions to ask yourself and strategize about for your Real Estate business. And, this applies to anyone, really!
Is your marketing costing you more than you are making?

Do you have a clear plan each week and month for moving your business forward?

Do you "look" the same in your marketing as every other Real Estate agent? (HINT – Blueprint for Failure!)

The ONLY reason to advertise is to get people to call you.

Do you clearly paint a picture of what you do, or do you say – "Yeah, I sell Real Estate…."

Have you clearly identified your ideal client? Your TARGET client?

Are you building your email list database and do you have a powerful lead magnet to entice the "opt in?"

Are you selling the emotional benefit of your services vs. just "selling your image and yourself?"

Are you regularly meeting new people, doing effective follow up, not just right after you meet them but into the future?

Are you making it personal to that person? Or just another generic pitch?
Questions for me?
Text or call – 909-289-7908 or complete the form below –
Please complete the form with your questions.