Become the Real Estate Go To Person in Your Area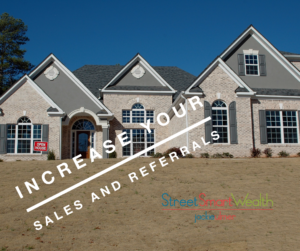 Are you ready for more referrals in your Real Estate business and looking for solutions to become the "Go To" person in your area by those local to you, as well as those outside of your region? Let's create a Real Estate by Referral business for you!
I'm going to share 7 simple, but effective ways to become Top of Mind among your center of influence, and spread that influence across the country and the globe via Social Media!
Do these few things consistently and it won't be long before you'll see your referrals and bottom line increasing.
First, listen to this short testimonial from a 2 Year Real Estate Agent who is excelling!
Real Estate by Referral
Listen to this short audio clip –
Create a "Top 100" or A-List of Clients and Referral Partners – your sphere of influence can create an endless source of referrals for you when you take the time to really build on the relationship. This is the cornerstone of your efforts, and we will focus on how to do this in person; with Direct Mail Greeting cards; and Social Media.
Consistently Network in your local area – people do business with those who they know, like and trust. Are you doing effective networking? Groups are everywhere – Facebook, Meetup.com, LinkedIn, BNI and more! Be consistent at a few select groups where you can "farm" the group and build relationships. (Don't forget the power in Social Media for building the relationship much more quickly. I will train you on how to do this (I've added over 2,000 to my sales team personally through Social Media!)
Ditch the Impersonal Mailings – How much are you spending now on mass mailing Salesy Literature? How many of those mailings do you think actually get READ vs. automatically dumped in the trash bin? Here's a clue – I recently started doing my own survey on this as I visit networking groups. I've yet to find one person who says they do anything other than dump it. Curious? Test it for yourself. Ask the next 50 people you see. Think about YOU – what do YOU do with mass mailings that come to you?
Keep in Touch – learn the power in High Touch Marketing with birthday, anniversary, "life event", Thanksgiving and other cards and gifts throughout the year. Maya Angelou said it best – "They may forget what you did and what you said, but they will never forget the way you made them feel." I'll share our top notch campaigns and teach you how to automate the process so much of your marketing is on autopilot, and takes very little time.
Develop an Online Presence using Social Media and a Blog. Think of all of those "gurus" who you follow online. What is one thing they have in common, besides their facebook page? They all have a blog, and in that blog is a lead capture system so they can build a list of qualified prospects. I'm going to teach you EXACTLY how to do this. The money is in the list!
Have a Networking Plan – sure, you know how to ATTEND events, but do you know how to prepare before you go, so that you have a highly effective event? Are you ready to "work the room", wowing them with your "commercial" and benefits statement? Do you know what to do with those piles of business cards you collect and toss on your desk after each event? We are going to fine tune all of this for YOU!
Get more Zillow Reviews – it's no mystery that most people today go online FIRST to start their search to buy (or sell)  home. Google and the power of search has changed everything. So, how do you become the "go to person" on Zillow in your area? If you want to pick up leads from Zillow, you must have reviews, as these provide social proof to those who land on Zillow, and have no idea who any of the agents are showing up there. Build the relationship quickly and get that "know, like and trust" status much more easily with good reviews. I'll teach you how to grab those from your audience!
Offer Value and Pick up Out of State Referrals – when you offer value through your social media presence and connecting with others, you can quickly become top of mind as the referral person in your area. I'll teach you how to do this through blogging (creating search traffic) and social media updates!
Would you like to learn more about how to make this work for you? Let's schedule a time to review your current strategy, your goals, and let me share with you how I generate leads daily and coach Real Estate agents on how to develop a winning, successful Real Estate by Referral Business.