Isn't it exciting what the Internet has made available to us? I have to pinch myself regularly when I think about the fact that I can work from home, in my PJs or Yoga pants; at 2 in the afternoon, or 2 in the morning, because I want to!
There is no boss telling me what I should or shouldn't do.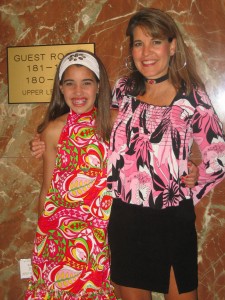 My time is my own to spend with my family! This picture is my daughter and I having fun at a 70s party! I have loved being there for her and my son from the moment they were born!
I started exploring the possibilities of using the Internet to power my business back in October, 1999. It has been a whirlwind journey and I have learned a lot. And, I made a lot of mistakes along the way, but when you think about it – that is how we learn and grow.
Time and financial freedom is something you can't really explain until you experience it. It totally rocks! And, it is so fun coaching others on how to accomplish this for themselves.
As the Internet grows, and Generation Y and others turn to it to find and start a business, there is so much potential there!
Sometimes people ask me why our family added a Custom Greeting Card business to what we are doing. After all, I already had great success with another company.
Here is why:
As an Online Network Marketer, I generate a lot of leads online. Many are outside of the US and and my goal is to have a business built around the world, primarily using the internet as a tool. My question has always been – "How do I tap into the global economy and opportunities offered by the Internet? And how do I do that NOW?"
I also generate a lot of leads from people looking for a complementary program to their existing one; they want to create multiple income streams and see this opportunity as one they can use to keep in touch with prospects and their growing team.
There are not many programs that truly offer something complementary, except for "lead programs" and most of those have not proven very solid over time.
My true passion is the internet and using these tools to build and coach a successful team. My belief is that the internet is going to do nothing but grow over the rest of my life! I want to be a part of that, in a big way! I want to teach my children how to do this. And, I don't want anyone telling me that the Internet does not work as a business building tool! It does, and I know how to do it! Do you want to learn?
My son has wanted to start a business; and he knows the power of the internet. How fun to combine my passion with teaching him to have a business of his own! So, we started his business!
I want to develop relationships and work with people all over the world. That was my dream in October, 1999.
This provides a way for me to "have it all!"
I would love to have a conversation with you to see if we might be a business match!