Fear is What Stops Many From Success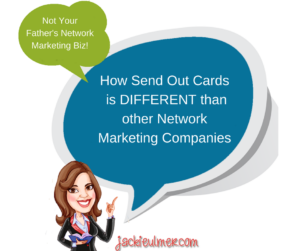 Fear of what others might think about network marketing is what stops more people than anything!
We don't have that with SendOutCards because as many say – "SendOutCards doesn't feel like a network marketing company."
That's one thing I have heard many times as I talk to people about the product and the opportunity with SendOutCards. This is why Send Out Cards is a different type of Network Marketing Company.
"This is the most "NON Network Marketing" Network Marketing company I have ever seen." Did you catch that? We ARE  a network marketing company, but we don't seem like one to many people because of our product, and the win win that it creates for anyone.
Most network marketing companies are the "personal consumption model" meaning no one really retails the product to actual customers. The distributors are on an autoship and they use all of the products themselves, or they stock up in the garage.
Some companies even require the customers to be on autoship and prevent the distributors from actually retailing the products to consumers. What the WHAT? Who's idea was that?
Why No Retailing Happens in Most Network Marketing Companies
There are several key reasons why retailing doesn't happen with most Network Marketing companies. Think about it. If you've been in other networking companies, you probably know what I am talking about.
1. The number one reason, typically, is because the products are priced much higher than one can get elsewhere.
2. Often, there is nothing that really differentiates the product from other similar, lower priced products. Yes, we hear that they are different, better, but is there really proof?
3. Many distributors won't talk to their warm market about the products because they know they will have to overcome the "price objection" and they don't have a good response.
4. There is little training done by the company on how to really "sell" the product.
5. Much more emphasis is placed on recruiting, and having the new distributor just use the monthly auto-ship themselves.
6. It's an uncomfortable "lead in." Do you want to lose weight? Ouch.
Why Send Out Cards Is A Different Type of Network Marketing Company
We create a win-win with everyone we share this with.
If someone has a business, it is an amazing tool to increase their business, referrals and make it simple and affordable to do both.
We have a product that everyone can use, and do good things with. They can –
Improve Relationships.
Express Gratitude.
Remember Birthdays, Anniversaries and other special events.
Put personal photos on individual cards.
Stay top of mind with those who they meet, do business with and generate referrals from.
We do a lot of retailing because we get paid very well for signing up customers. Many of these will naturally become distributors. Because of this, we can easily share the product, and then mention the income potential that is available if they like what they see.
I talk to Real Estate Agents, Insurance Sales People, Mortgage Brokers/Lenders and all others from Network Marketing and Direct Sales professionals, to carpet cleaners and anyone who has a business with Customers. Think about that… That is virtually everyone!
Because most of these professionals are already working in their own Commission Based business, they quickly get the benefit of the income opportunity that SendOutCards offers.
Many people struggle with actually building a Direct Sales/Network Marketing business because they have fears –
Fear of not knowing what to say, so they think they will look stupid to friends and family.
Fear of what people will think.
With SendOutCards, we don't have this. Our simple Texting and App Sharing System makes knowing what to say and do a no-brainer.
And, when you aren't trying to get someone to pay MORE for something than they normally would. That's one strong reason why Send Out Cards is a different type of Network Marketing Company.
I'm staring at a $4.99 Hallmark Card right now, that's cute, but will head straight for the trash. Next to it is a $1.17 SendOutCard with photos on it. It's a keeper!
Want to know more about Why Send Out Cards Is A Different Type of Network Marketing Company? Let's have a conversation!